Farting Survey Results
MEN'S RESULTS
Category VII
It's All in the Butt...
Most men surveyed lift a cheek to fart. The next common position was to lift a leg.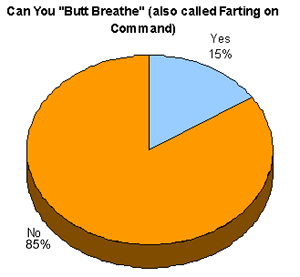 Only 15% of the men surveyed can fart on command by sucking air into the colon. One third of all men did not even know that this is possible!
<<< Previous Category Men's Results Home Next Category>>>
---
Questions about these results? Want us to research something fart related? Wanna suggest a question for us to add? Email Us!