Farting Survey Results
MEN'S RESULTS
Category V
One, two, three...FART!
Questions in this category regard competitive farting.

More than half of men surveyed have participated in a farting contest, most of the men that participated claim to have won. When men were asked the hypothetical question "How well do you think you would do in a farting contest?", their responses indicated not so high confidence with farting ability. Most men feel that they would do well, but more men feel that they would lose, than win.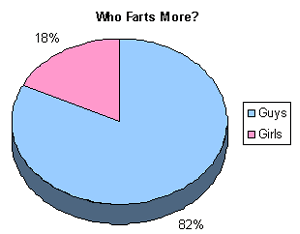 The large majority of men feel that they fart more than women.
<<< Previous Category Men's Results Home Next Category>>>
---
Questions about these results? Want us to research something fart related? Wanna suggest a question for us to add? Email Us!